Last week, Deutsche Bank (NYSE:DB) announced that, effective immediately, its CEO John Cryan would be replaced by Christian Sewing.
While this is perhaps positive for the company and its valuation, as it means that Deutsche Bank may speed up its restructuring plans and thus get on stable footing again sometime soon, for the moment it also creates uncertainty and turmoil that may settle in still unpredictable ways.
A Dramatic Showdown For "The Sick Bank Of Europe"
Cryan had served as CEO since July 1, 2015. By traditional CEO evaluation metrics, it would appear that his performance was rather negative, as since then Deutsche Bank stock price has collapsed precipitously, currently down around roughly 46% from its price at the beginning of Cryan's term.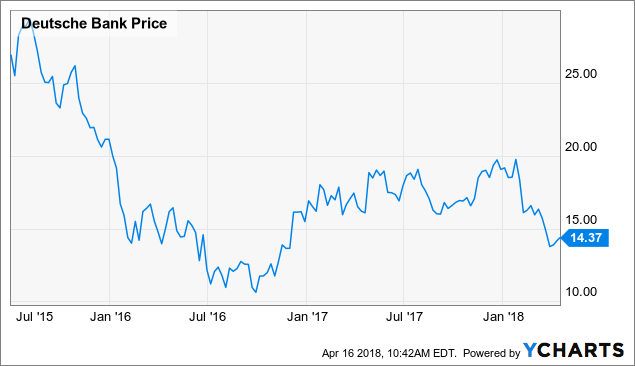 As shown, at times the stock price had slumped even further – like in late 2016 – due in part to financial turmoil in Europe and Deutsche Bank's own seemingly deepening problems. While the stock has rallied heavily since, it still remains well below its recent former glory.
Indeed, the reason that Deutsche Bank Board Chairman Paul Achleitner gave for Cryan's dismissal in an interview with the German press was that Cryan's leadership contributed to a slow decision-making and implementation process for reforming Deutsche Bank's business to get out of its recent slump.
There also appears to have been a complex boardroom battle of personalities involved, with Cryan on the losing end. Cryan apparently had written a memo to Deutsche Bank's staff indicating he would not leave the CEO position voluntarily, setting the stage for the dramatic 4-hour board showdown that resulted in his dismissal.
While the stock initially rallied in response to Sewing's replacement of Cryan as CEO, it has slumped again since then, and S&P is even now considering a downgrade of Deutsche Bank taking into account the recent CEO change.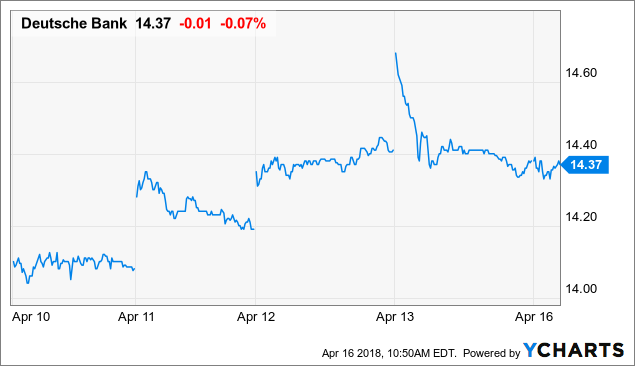 While S&P believes that the restructuring seems to proceeding, it nonetheless believes that the restructuring may be delayed until successful completion only by 2020, meaning that in the meantime the bank may continue to experience turmoil and stagnation as it cleans itself up.
Hope For The Future, Or More Chaos On The Horizon?
If we take Achleitner and other board members at their word, it appears that Cryan's leadership style may have contributed to a slow implementation of Deutsche Bank's restructuring plan that has slowed the bank's ability to repair itself and implement its restructuring plan effectively.
Therefore, the dismissal of Cryan, and the replacement of him with someone who was selected in order to fill those lacking attributes, would seem to mean that Deutsche Bank may now be better on track to implement its restructuring goals and thereby return to profitability and stability.
On the other hand, Cryan's dismissal also creates uncertainty for the moment in terms of Deutsche Bank's immediate trajectory under Sewing's leadership. In order to determine the likely impact, we need to examine who exactly Sewing is and the potential impact he may have.
Sewing himself is a Deutsche Bank insider, compared to Cryan, who was appointed from outside the bank. While it is unclear if Sewing has worked for Deutsche Bank without interruption his entire career, it appears that he first worked at the bank even as a college student in the late 1980s and early 1990s, began his career there, and worked his way up to being appointed to the Board of Directors on January 1, 2015.
Of important note, prior to his appointment to Deutsche Bank's board, Sewing's specific functional specialty was in risk management and credit, holding positions over the years as head of group audit, chief credit officer, and deputy chief risk officer, among others.
In comparison, Cryan had apparently never worked at Deutsche Bank prior to his appointment as CEO, and came apparently from a corporate finance background. While at the time those attributes were what Deutsche Bank was attempting to experiment with in order to get an outside perspective to fix the bank, it seems now they are reverting more to those who know the bank on a closer basis.
Conclusion
While we still need to see the actual results of Sewing's new leadership, based on his background I believe it will be positive for Deutsche Bank to have at its helm someone so skilled with risk management and also who clearly knows the bank inside and out over the course of about three decades.
Even with Sewing's leadership, it remains uncertain whether gravity will overpower his efforts, as he now is at the helm of a massive institution that has been plagued by years of scandals, chaotic finances, and market turmoil.
While I think this will be positive for Deutsche Bank's trajectory in restructuring itself and regaining profitability, I think we will also need to watch closely how Sewing is able to actually successfully work up to all the new expectations for him.
Marketplace Service
The investing world is increasingly affected by complex regulatory risks and technological advancements.
I will soon be launching a Marketplace subscription service to provide you with the latest informed insights on opportunities, risks, and developments to help you successfully navigate this new landscape.
Stay tuned! Please feel free to reach out to me if you are interested in this service by direct message.
Disclosure: I am/we are long KBE.
I wrote this article myself, and it expresses my own opinions. I am not receiving compensation for it (other than from Seeking Alpha). I have no business relationship with any company whose stock is mentioned in this article.