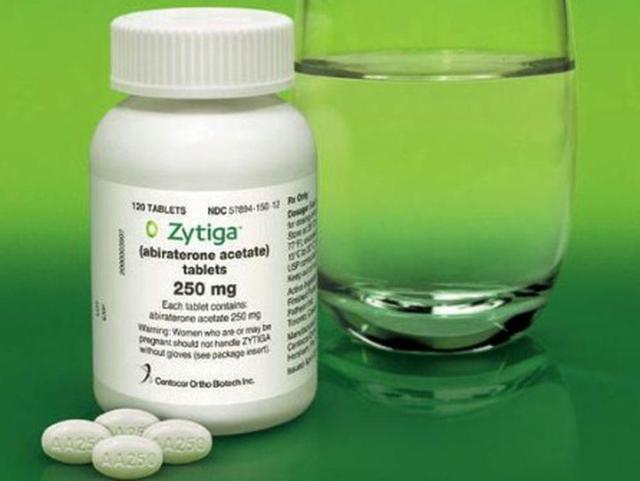 Johnson & Johnson (JNJ) reports quarterly earnings Tuesday. Analysts expect revenue of $19.43 billion and eps of $2.01. The revenue estimate implies a 9% increase Y/Y and a 4% decline Q/Q. Investors should focus on the following key items:
Organic Revenue Growth
JNJ has three key operating segments – Consumer, Pharmaceutical and Medical Devices. The Consumer segment includes beauty products and over the counter drugs that should provide a steady stream of earnings and cash flow even if the economy stagnates. The company's growth engine is the Pharmaceutical segment (48% of total revenue) which grew 18% Y/Y.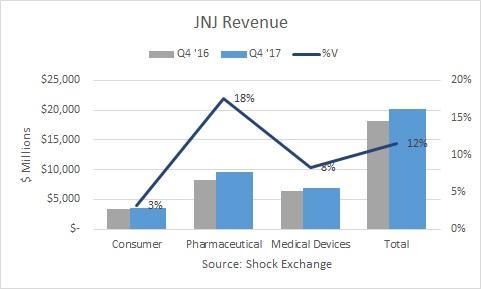 All of Pharmaceutical's revenue was not organic, however. Over $600 million of its $9.7 billion in revenue came from Actelion, a leader in pulmonary arterial hypertension. Actelion was acquired in Q2 2017. Sans the acquisition Pharmaceutical's organic growth would have been 10% and JNJ's total organic growth would have been closer to 8%.
High-single digit growth is nothing to scoff at for a company of JNJ's size. I think it's important to point out that it may not be the high flyer suggested by the 12% reported revenue growth. Per the Q4 2017 earnings call management projects low single-digit revenue growth for full-year 2018:
With respect to the operational guidance, excluding acquisitions and divestitures on a organic basis, we did about 2.4% for 2017 and I mentioned 2.5% to 3.5% for all of 2018. The fourth quarter of 2017 was higher than that as you pointed out and I think this just has to do with the ramp of products, particularly in the pharmaceutical business which are continuing to grow, but they are obviously continuing to grow now off of a higher base. So we took that into consideration in our estimate.
Again, the catalyst for new growth appears to be driven by the push/pull of products within Pharmaceuticals. Stelera (chrohn's disease, psoriaris) revenue grew 23% Y/Y as the drug has been taking out-sized share in the psoriais market. The Q3 2017 introduction of Tremfoya should help JNJ further encroach upon Celgene's (CELG) Otezla and Eli Lilly's (LLY) Talz in the psoriasis segment. Imbruvica (oncology) grew revenue over 50% and has become the total patient leader for first and second line Mantle Cell Lymphona and Luekemia.
These gains were offset by a 10% decline of Remicade (ulcerative colitis, chrohn's disease) due to rebates and competition from biosimilars. It appears that as the Pharmaceutical segment goes, so goes JNJ.
Is Patent Loss For Zytiga Priced In?
Zytiga (prostate cancer) generated Q4 2017 revenue of $755 million, up 46% Y/Y. The drug was also 8% of total revenue from the Pharmaceutical segment. In January the U.S. Patent Trial and Appeal Board invalidated Zytiga's 2027 patent after an inter partes review ("IPR") challenge from Argentum Pharmaceuticals. Generic Zytiga could arrive by Q4 2018, and could be a big blow to JNJ given the profitability of Zytiga and its out-sized revenue growth.
It is unclear whether management included generic competition for Zytiga into its revenue growth prospects for 2018. If generic Zytiga arrives in Q4 2018 then it could stymie the company's revenue growth for 2019. I would anticipate low single-digit revenue growth for JNJ long-term. That could change sentiment for the stock.
Is A 2.6% Dividend Yield Enough?
With an enterprise value of $370 billion JNJ trades at over 15x trailing EBITDA. Its trading multiple is robust for a company with expected single-digit revenue growth and potential loss of exclusivity for Zytiga. Investors have to question whether JNJ's 2.6% dividend yield is enough to offset a loss of principal in case the market turns down. As the Fed continues to take liquidity out of the market, large steady pharmaceutical companies like JNJ could become attractive dividend yield plays. For now I rate the stock a hold.
Disclosure: I am/we are long JNJ.
I wrote this article myself, and it expresses my own opinions. I am not receiving compensation for it (other than from Seeking Alpha). I have no business relationship with any company whose stock is mentioned in this article.
Related Posts: