Let's start off this week's MannKind (MNKD) discussion with the American Diabetes Association Conference, which started June 22 and runs through June 26. MannKind participated in the conference, had a booth there, presented posters, and also discussed Afrezza with attendees. The bigger pieces of news from the conference involved a STAT study that looked at achieving better time in range for blood glucose levels, while a second poster looked at hypoglycemia events. Like anything in life, these studies have their attributes and drawbacks. Look for MannKind to focus on the attributes. The hope of many longer-term investors is that the ADA conference can compel doctors to give more consideration to Afrezza and by extension create a surge in script sales. MannKind has even initiated a modest (thus far) television ad campaign leading into the event.
The company intends to follow the ADA event with a trip to New York City to host an institutional investor and analyst meeting on June 27th. At this meeting, it will be presenting the positive attributes of the studies released during the ADA conference. The company has billed the event as invitation-only luncheon for institutional investors, sell-side analysts, investment bankers, and business development professionals.
This series of events is a very straight forward and right out of the Wall Street playbook. The idea here is to piggyback off of a big event at which positive data was released, and parlay that into an equity offering. What investors need to grasp is that MannKind has had its struggles in raising funds at necessary levels to give it time to shift the strategies it deploys. Instead, the company seems to be perpetually funding itself via dilution just 3 to 6 months at a time. This type of financial engineering does not allow for the company to do anything much differently than it is currently doing, meaning that expecting a change in results is difficult. In many instances, these offerings can have toxic attributes such as discounts to the current trading level and warrants. Regular readers here have seen me outline this series of events for quite some time, and the moves by the company create great trading opportunities for active traders.
The big thing that investors should be aware of is how much cash is needed to get the runway extended to the end of 2018 and into Q1 of 2019 vs. how much cash would be needed to launch a more compelling advertising and marketing effort and finance the clinical trials needed to advance the pipeline. If the company raises $30 million or less, the Street is going to look at the offering as another repeat of kicking the can down the road. If the company were to raise $50 million or more, then there can be a bigger (short term) shift in the marketing efforts that could support a more robust advertising campaign in order to have any shot at hitting its guidance on net sales for Afrezza.
In a perfect world, MannKind needs enough cash to operate for at least a year. Remaining cash commitments for debt in 2018 are at about $20 million, to which we must add about $12 million for interest. Cash commitments for 2019 are $41 million with interest payments needing to be added. In order to change how the marketing effort is done, MannKind needs to free up several million to create a push. As I have said before, a MannKind with over $150 million in cash is much different than a MannKind having to kick the can down the road.
Afrezza Sales
For the week ending June 15th, Afrezza script sales were down a bit but remain above 500. While getting to 500 was a small victory, the sales trajectory leaves a lot to be desired. This is especially true when you consider the guidance offered up by the company for 2018. There are now just two weeks left in Q2, so readers here will have a very good idea of where things stand at the halfway point.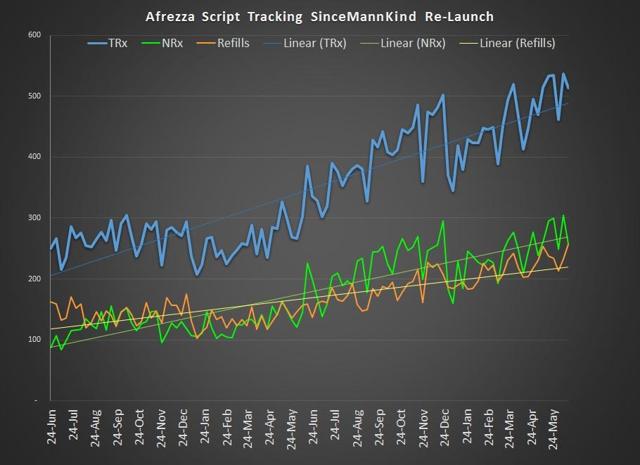 Chart Source – Spencer Osborne (based in part on Symphony data)
Quarter-over-Quarter Scripts
The quarter-over-quarter sales numbers leave a lot to be desired. At this point in Q2, the Afrezza script sales volume is progressing at just 16.88% better than what was delivered in Q1. Given that the company characterized Q1 as "seasonally weak", one would have expected a growth percentage that was more impressive. Anecdotally, it is speculated that internal sales goals were a 48% improvement in Trx, sales of at least 91 scripts per territory, and a 1% market share. Clearly reaching those goals is pretty much a stretch, much bigger than what is realistically possible over the next two weeks that remain in Q2. I anticipate that Q2 script totals will be at about 6,450 vs. 5,617 in Q1. That will represent quarter-over-quarter growth of about 15%.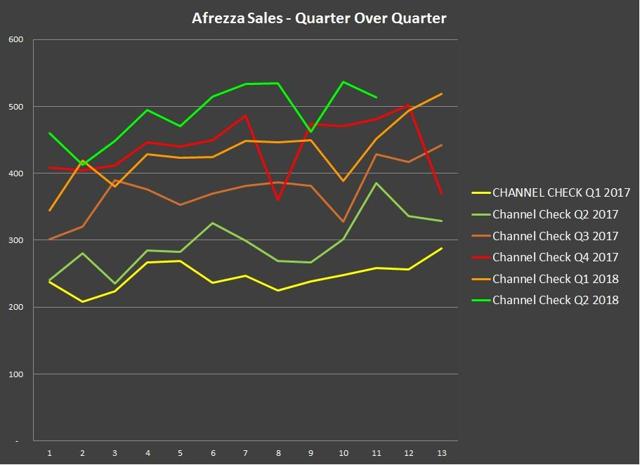 Chart Source – Spencer Osborne (based in part on Symphony data)
Retail Sales, Gross Revenue, and Net Revenue
Retail sales, gross revenue, and net revenue are beginning to line up with my projections. The number that should be most important to investors is the net revenue number. This is the money that is left after various costs have been backed out. The trajectory on revenue is running slightly ahead of the trajectory on script sales. This can be attributed to legacy product having worked itself off of the shelves at about mid to late Q1.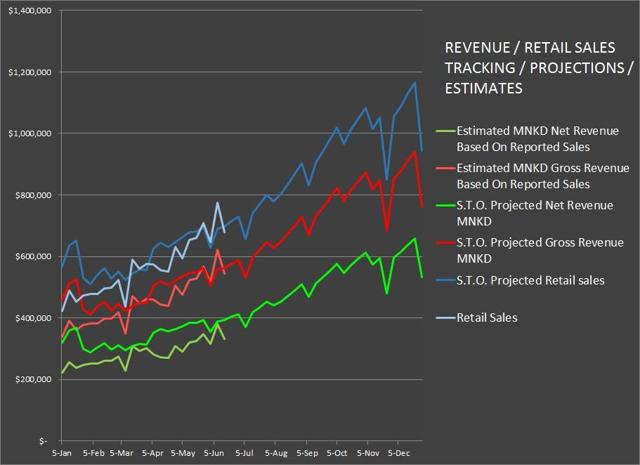 Chart Source – Spencer Osborne (based in part on Symphony data)
The net revenue estimates are based on script sales to the end user. Readers should bear in mind that the company books net revenue based on when it sells to the wholesalers and distributors. That can create a delta in the numbers. I estimate that net revenue on Afrezza sales through June 15th stands at about $6,847,000. It would appear that net revenue for the first half of the year will come in at about $7.5 million. This would imply that Q2 will deliver about $4.1 million in net revenue vs. $3.4 that was reported in Q1. This would represent an increase of about 21%.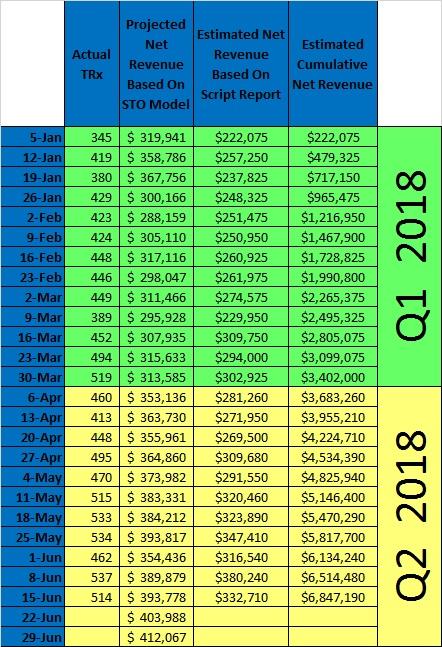 Chart Source – Spencer Osborne
Projections and Estimates
As regular readers know, I project scripts, sales, and revenues that go out to the end of the year. When data on scripts comes in, I assess that data and offer an estimate as to how it translates into dollars. Thus far in 2018, my projections have proven to be aggressive. That being said, they are not yet aggressive enough for me to shift the model. With script projections, Afrezza sales seem to be tracking slightly below the lower end of my projections. I was more aggressive on my projections in the second half of 2018 to account for building sales, some added advertising, and a stronger push.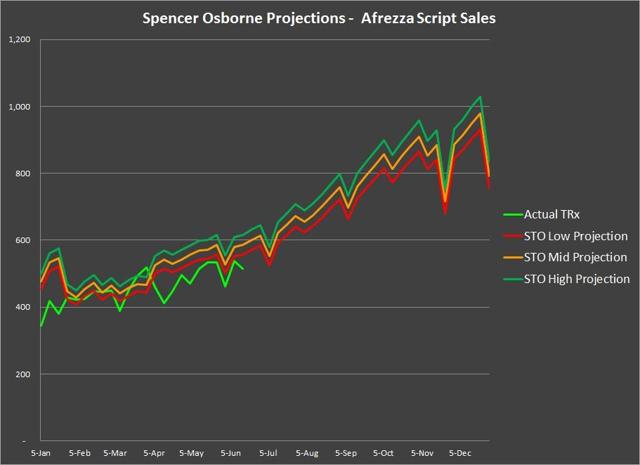 Chart Source – Spencer Osborne (based in part on Symphony data)
Projections and estimates for sales and revenues were illustrated in the section of this article covering sales and revenues, but the chart below boils that data down to a running total. As you can see, I estimate that net revenue stands at a bit over $6.8 million with about 46% of the year passed. My estimates are lower than my projections and at this stage show that net revenues are just 33% of what is needed to meet my projections.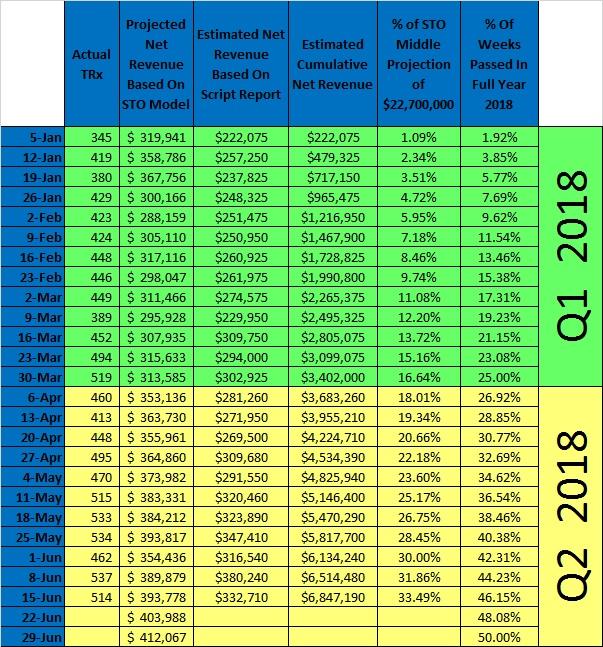 Chart Source – Spencer Osborne (based in part on Symphony data)
Guidance
In my opinion, Q2 is pretty much where the metal meets the road on MannKind's ability to reach its guidance. The company does not really need to address this head on until it conducts its Q2 quarterly call in mid August, but savvy investors and traders are assessing odds already. For review, MannKind offered the following guidance:
Net Afrezza revenue between $25 million and $30 million
Net cash used in operations of between $90 million and $100 million
It appears that MannKind will finish the first half of the year with net Afrezza revenue of about $7.4 to $7.6 million. This implies that a substantial ramp up in sales will be required to reach guidance. One issue with that is that the company also offered cash burn guidance. This means that unless sales grow organically, it may need to spend more money to achieve the net revenue goal.
The chart below illustrates that gap that needs to be filled in the 28 remaining weeks of 2018. At this point, I estimate that MannKind has achieved 27% of its lower goal with 46% of the year passed.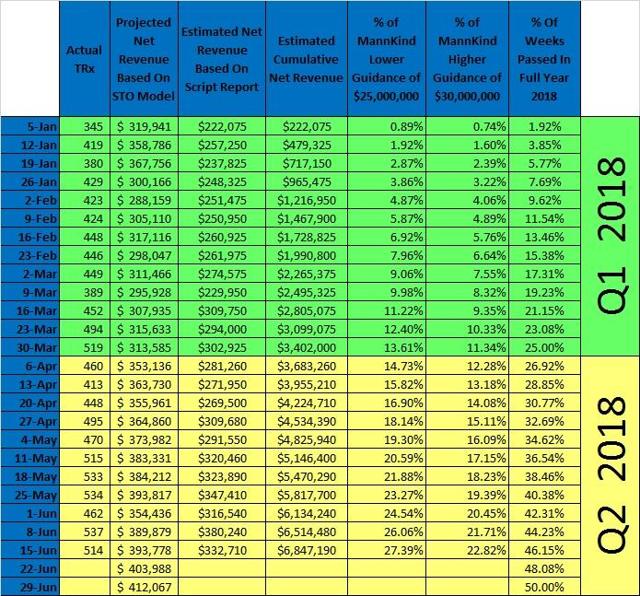 Chart Source – Spencer Osborne
When translating all of this to scripts, we can see the compelling problem. Simply stated, the script sales are not growing at the required rate to deliver the monies needed to hit guidance.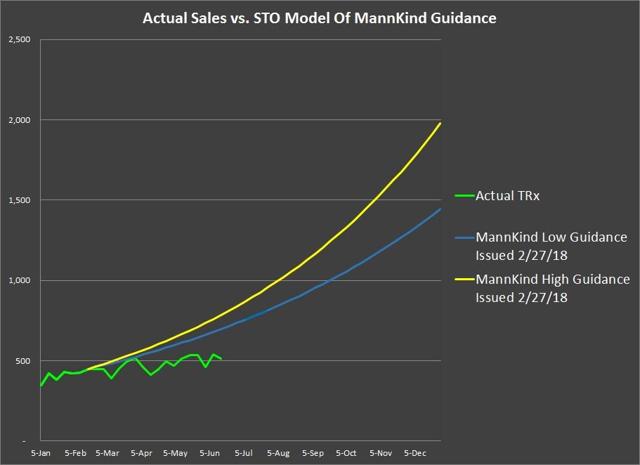 Chart Source – Spencer Osborne (based in part on Symphony data)
Cash
The cash situation at MannKind has been one of its major stumbling blocks for years. I accounted for MannKind's Q2 insulin payment this week, and thus I estimate that cash closed the week of June 15th at about $37.8 million. MannKind has another $12 million due to Deerfield by July 18th, so that situation is getting more desperate. The company would certainly prefer to use shares to pay the debt, but giving Deerfield shares forces it to address longer-term debt issues because of the repayment structure alternating near-term and longer-term issues.
My cash estimates do not account for any use of the ATM facility. This facility would actually allow the company to use just the number of shares needed to address the near-term $12 million due to Deerfield. I suspect that the company has been using the ATM facility throughout the quarter, but will likely pause its use a bit while it tries to put together another equity offering next week on the 27th.
The biggest question that investors need to think about is whether or not MannKind can raise enough cash to be able to deliver a big sales push in the second half of the year. By my estimation, MannKind will finish Q2 with about $35.2 million in cash and be about $4 million in cash shy of meeting the Deerfield covenant of possessing $20 million in cash at the end of each quarter in Q3.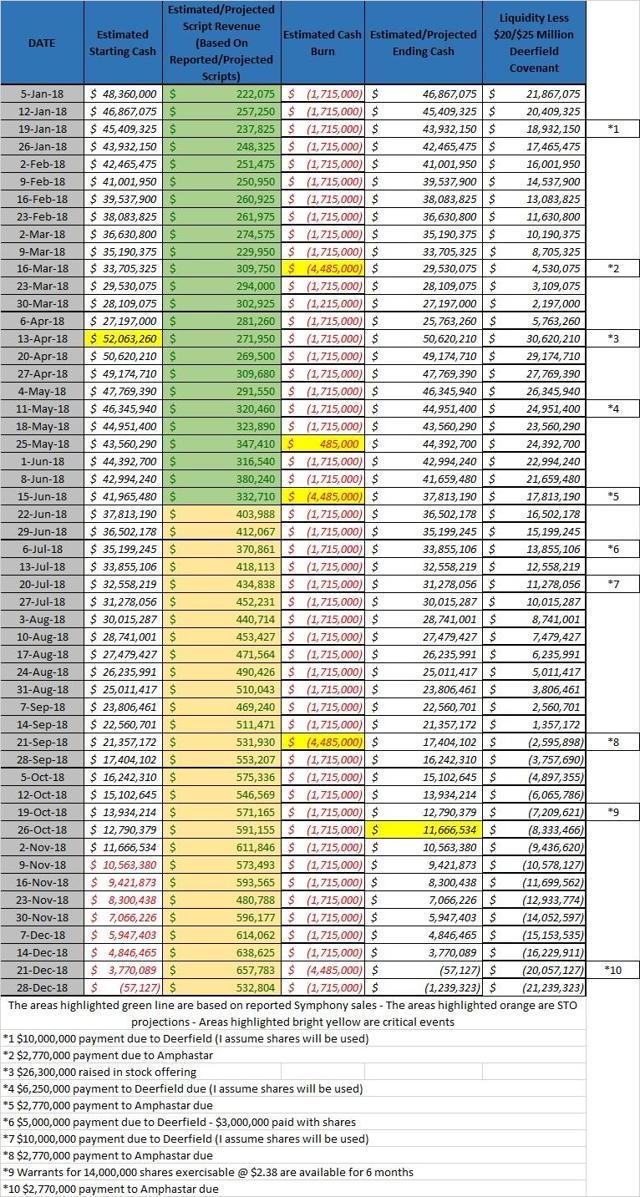 Chart Source – Spencer Osborne
Summary
The quarter-to-quarter dynamics of MannKind continue to keep it speculative and continue to give active traders all of the advantages in this equity. MannKind has yet to deliver a material shift that is large enough to shift the narrative. Dilution is a very real thing that investors will need to watch closely. If this company cannot raise enough money to fund operations AND increase its marketing efforts, the Street will still carry a lot of doubt with this stock. Companies can exist for quite some time kicking the can down the road, but investors are looking for decent returns. At the moment, the players with the advantage are those that actively trade this equity. Stay Tuned!
Disclosure: I/we have no positions in any stocks mentioned, and no plans to initiate any positions within the next 72 hours.
I wrote this article myself, and it expresses my own opinions. I am not receiving compensation for it (other than from Seeking Alpha). I have no business relationship with any company whose stock is mentioned in this article.
Related Posts: