As a long term Micron (MU) shareholder, I have had many disappointments when I thought a quarterly earnings report was very good, only to have the stock drop in price afterwards. It seems like this happens every time, but in actuality I think it is just the drops that leave a bigger impression on my memory. I have also noted, as have many others, that Micron's share price tends to have a nice run up going into the next earnings release.
This morning, I decided to do a little analysis of each quarterly earnings report and compare the following quarter's price trends to look for any patterns. For this analysis, I decided to go back 8 quarters (including the one we are in now). This amount of data includes almost the entire stock price run up for this semiconductor cycle.
For each quarter, starting with the oldest, I will present the quarterly earnings results and then show a chart of the stock price over the following quarter.
The charts have small green circles indicating the day that earnings are released at beginning and end of the quarters. The red circle indicates the lowest price during the quarter.
Earnings Release: June 30, 2016
EPS of $-0.08, beat by .01; Revenue of 2.90B, missed by 60M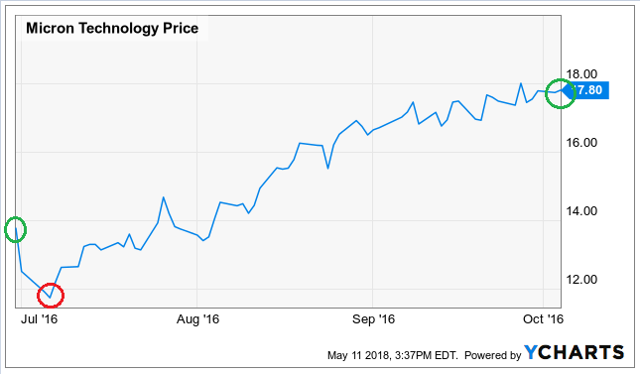 Micron was just starting garner some attention and come off its cyclic lows. In this quarterly case, MU's price fell 13.4% right after earnings and reached a low of $11.73. This took place 3 days after the earnings report. From there, the stock climbed a fantastic 51.7% to the next earnings release day.
Earnings Release: October 4, 2016
EPS of $-0.05, beat by .05; Revenue of 3.22 B, beat by 90M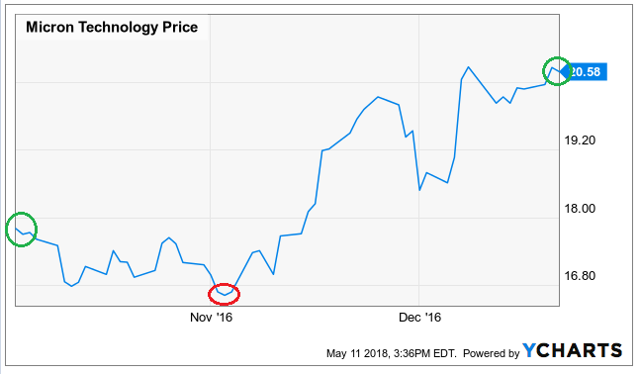 In this case, the MU price drop was a minimal -0.39% over the 2 days following earnings. More importantly, the price continued to drop and reached a quarter low of $16.62. This happened 22 days after earnings. From the low, the stock increased to gain 23.8% till the end of the quarter.
Earnings Release: December 21, 2016
EPS of $0.32, beat by .04; Revenue of 3.97B, beat by 20M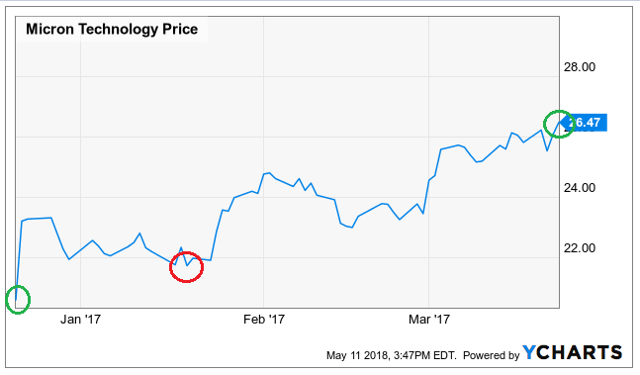 Here, MU actually had a nice 13% gain 2 days after earnings. For some reason, this is one of the times that people's memory seems to forget about. The price did decline over the following 16 days (18 days total) and reached a quarter low of $21.71.
At this point, a pattern is starting to emerge. MU drops or lays dormant for some period (around 20 market days) after earnings, and then takes off.
Earnings Release: March 23, 2017
EPS of $0.90, beat by .05; Revenue of 4.65B, in line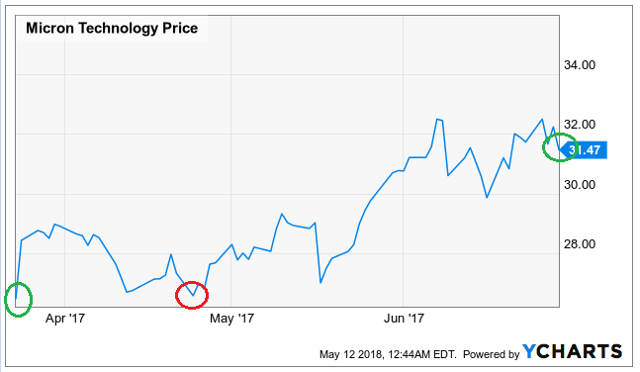 Here we go again, the price actually did have a nice increase after earnings and then languished for the next 21 market days to a low of $26.57. After that, it had a nice run up of 18.4% to the end of the quarter.
Earnings Release: June 29, 2017
EPS of $1.62, beat by .11; Revenue of 5.57B, beat by 160M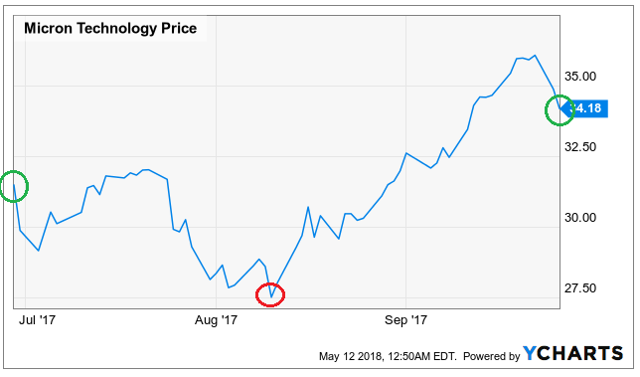 Microns earnings really started taking off at this point, but this release had the sort of response that people really remember. Over the next 2 days, MU dropped 7.4% before staging a small rally and the typical further decline down to $27.49. This occurred 29 days after earnings. A little longer than previous quarters, but in the same ball park. And then…you guessed it, a solid rally for the rest of the quarter up 24.3% from the low.
You see the pattern emerging?
Earnings Release: September 26, 2017
EPS of $2.02, beat by .18; Revenue of 6.14B, beat by 180M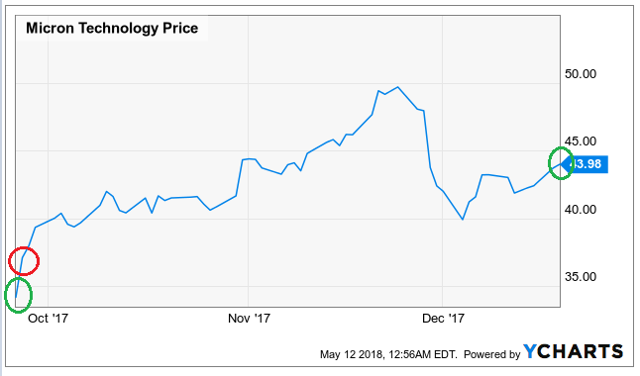 Earnings are really coming in solid now. This was seen as so strong that the lowest price during the quarter was actually the day after earnings at $37.09, which was up strongly. Even from this "low", the stock continued to increase by 18.5% until the end of the quarter.
Earnings Release: December 19, 2017
EPS of $2.45, beat by .25; Revenue of 6.80B, beat by 410M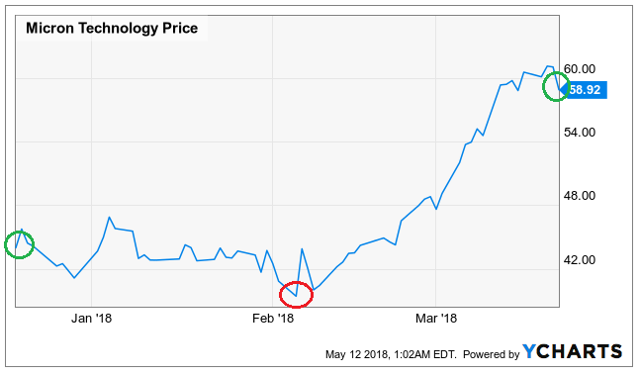 This quarter returned to our familiar pattern. A small gain after earnings, followed by several weeks of languishing into a low. The low of $39.40 was reached 31 market days after the earnings report, and then a rally ensued taking the price up an astonishing 49.5% till the end of the quarter.
Earnings Release: March 22, 2018
EPS of $2.82, beat by .08, Revenue of 7.35B, beat by 70M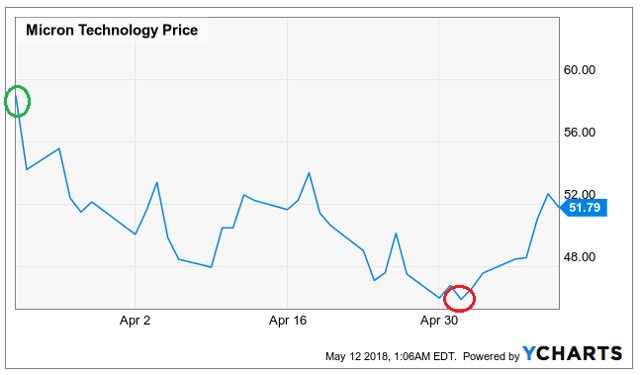 This is our current quarter and it looks to be playing out just like the playbook above prescribes. The low of $45.89 was reached 28 days after the last earnings report. Note: the chart is slightly skewed since we still have about 6 weeks to go in this current quarter.
What Next?
So this is where the fun begins. Let's take a look at the data we have available and make some predictions about where the price could be on the close of the next earning release day in June.
First, let's tabulate the pertinent data:
Earnings Date
EPS

2 Qtr

Normalized Forward PE

% Change

2 Days after Earnings

QTR Low – Days After Earnings Release

Gain from

QTR Low

6/30/16
-.08

-13.4%

3

51.7%
10/4/16
-.05
-68.5
-0.4%
22
23.8%
12/21/16
.32
38.1
13.0%
18
21.9%
3/23/17
.90
10.8
8.6%
21
18.4%
6/29/17
1.62
6.2
-7.4%
29
24.3%
9/26/17
2.02
4.7
11.1%
1
18.6%
12/19/17
2.45
4.9
1.0%
31
49.5%
3/22/18
2.82
5.6
-5.7%
28
?
Averages:
0.85%
19
29.8%
Table Notes:
Note that the average 2 day gain after earnings release has averaged a positive 0.85%. Sure there have been some losses, but I was surprised to see this as a gain. My memory of Microns performance doesn't seem to be accurate here. I could have sworn it always went down.
I calculated a running 2 quarter normalized PE for the stock (taking the current and last quarter, multiplying by 2 and dividing it into the price). This seems a little more accurate than normal PEs since the EPS was increasing so rapidly that year old EPS numbers just don't seen accurate to use. This gives us a current forward PE of 5.6.
Micron's low price of each quarter averages out to occur 19 market days after each earnings release (24 days if you omit the two freak anomalies of 1 and 3 days)
Finally, the average gain from the low of the quarter till the quarter end was 29.8%
Stock Pricing Projections
For the current quarter that we are in, Micron's stock price hit a quarter low of $45.89, just seven days ago. If we can assume that Micron will follow its average gain of 29.8% from this low, we could expect a price on the next earnings release on June 27th of around $59.56.
Micron gave a forward guidance range for the next EPS of $2.76 to $2.90. Since Micron usually sandbags a big we will assume the $2.90 figure. We can use that to calculate a forward 2 quarter normalized yearly earnings of $11.44. In order to simply maintain our current normalized PE of 5.6 would require that the stock price increase to $64.06 by June 27th.
Using the midpoint of these two figures, I'm going to go out on a limb and say that I think Micron's stock price could increase to at least $61.81 by June 27th. I think it could actually boost a little higher depending on what Micron says during their investor conference on May 22nd.
An interesting side note: Since Micron tends to achieve a low about 24 market days after earnings each quarter, I decided to try and figure out what could cause this. It didn't take a whole lot of digging to realize that this is about the time frame for all the other big tech names (like Apple and Intel) to report their earnings. What this tells me is that Micron's earnings report gains no respect from the investing community. Regardless of how good Micron's earnings are, the big investors take a wait and see approach to get confirmation from the other big tech names before they make their bets on Micron for the rest of the quarter. And there you have it…
This was a rather simplistic approach to analyzing Micron's stock price, but I think it was a novel and fun way of looking at it. Let me know what your thoughts are in the comments.
Disclosure: I am/we are long MU.
I wrote this article myself, and it expresses my own opinions. I am not receiving compensation for it (other than from Seeking Alpha). I have no business relationship with any company whose stock is mentioned in this article.