By Bob Ciura
Pfizer is a strong dividend stock. It has a 3.5% dividend yield, which is well above the S&P 500 average, and is also above many of its peers in the Big Pharma space. Pfizer is one of 203 dividend stocks we track in the healthcare sector. You can see all 203 dividend-paying healthcare stocks here.
In addition, Pfizer is a dividend growth company. Investors no doubt remember Pfizer's painful dividend cut in 2009, to help finance its massive $68-billion takeover of Wyeth. But since then, the company has returned to increasing its dividend on an annual basis.
Last year, Pfizer announced its dividend increase on December 12th. It has paid a flat dividend for four quarters, implying it is likely another dividend increase is on the way. This article will review Pfizer's fundamentals, and conclude with an estimate of how much the company might increase the dividend for 2018.
Business Overview
Pfizer is one of the largest U.S. pharmaceutical companies. It has a market capitalization of $218 billion. It researches and manufactures drugs for a variety of therapeutic areas. Pfizer operates two reporting segments:
Innovative Health (60% of revenue)
Essential Health (40% of revenue)
Common therapeutic areas for Pfizer are internal medicine, oncology, immunology, inflammation, and rare diseases. Pfizer's global portfolio is based mostly on biopharmaceuticals, but it also includes vaccines, as well as consumer healthcare products.
Since 2011, the company has placed greater focus on its six core "anchor" products.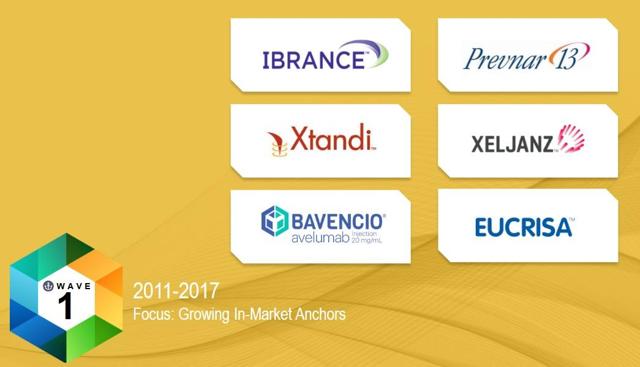 Source: 2017 Goldman Sachs Healthcare Conference, page 5
Pfizer has a strong business model, with high-quality properties across its product portfolio. The Innovative Health and Essential Health segments both grew revenue by 11% in 2016. Revenue from internal medicine and oncology increased by 17% and 56% in 2016, respectively.
The company was also off to a good start to 2017. Revenue declined 1% over the first three quarters, but adjusted earnings per share increased 8% in that time. Pfizer's top line has struggled a bit this year. Revenue missed analyst expectations for the first two quarters of the year, before matching estimates in the third quarter.
Pfizer continues to post satisfactory earnings growth, thanks to cost controls and share repurchases, but it could use some better revenue growth rates. Going forward, the company plans to get revenue growth back on track, by replenishing its pipeline.
Growth Prospects
As a large, global pharmaceutical company, research and development is crucial to Pfizer's growth. The major risk for a company such as Pfizer, is patent expiration. Losing blockbuster drugs can result in huge lost revenue, as occurred when Lipitor went off patent.
Consequently, Pfizer invests billions in R&D, and the company has enjoyed a successful track record of achieving approvals. Pfizer has had 22 key approvals since 2011.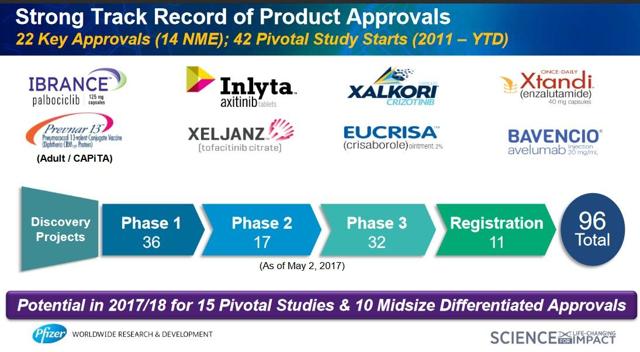 Source: 2017 Goldman Sachs Healthcare Conference, page 3
The end result is that the company has a strong product pipeline, which will help fuel future growth. Pfizer believes it will achieve as many as 30 product approvals over the next five years, 15 of which have the potential to be blockbusters. It expects seven of the 15 to receive approval by 2020. It also has 14 biosimilar assets in development, 8 of which are mid-to-late stage.
In addition to product innovation generated by R&D, Pfizer is also turning to acquisitions to drive growth. Its two biggest deals in recent years were the $17-billion takeover of Hospira, and the $14-billion acquisition of Medivation.
With a strong balance sheet, billions in free cash flow each year, and low interest rates, the time is right for M&A in the healthcare sector. These acquisitions not only brought Pfizer instant revenue growth, but also provided the opportunity for accretive earnings growth through cost synergies.
Earnings growth is supplemented by share repurchases. Over the first three quarters of 2017, Pfizer conducted a $5-billion accelerated share repurchase, which reduced its share count by 2% in that time.
Dividend Analysis
Pfizer's dividend growth will depend largely on its ability to grow earnings. If the company did not achieve earnings growth, dividend increases would raise its payout ratio. Over time, this would be unsustainable.
Even though the company's revenue growth has slowed down, it continues to generate earnings growth. Pfizer expects revenue in a range of $52.4 billion to $53.1 billion for 2017. In 2016, Pfizer generated revenue of $52.8 billion, meaning 2017 is likely to see revenue up or down 1%. Cost cuts and share repurchases are expected to generate adjusted earnings per share of $2.58 to $2.62, which would represent 7.5% to 9.2% growth, from $2.40 per share earned in 2016.
Consistent earnings growth has fueled Pfizer's steady dividend increases since the end of the Great Recession.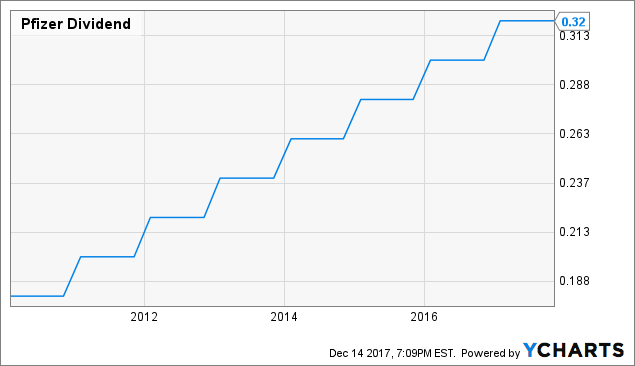 PFE Dividend data by YCharts
High single-digit earnings growth is enough to warrant a similar percentage increase in the dividend.
Pfizer currently pays an annualized dividend payout of $1.28 per share. It has a recent history of high single-digit dividend increases. In the past five years, the company increased its dividend by approximately 7.7% each year.
The current payout of $1.28 represents a payout ratio of approximately 50%, based on projected 2017 earnings per share. This leaves enough room for a high single-digit raise, without raising the payout ratio to a dangerous level. For example, a 6% to 8% dividend increase would raise the annualized payout to approximately $1.36 per share to $1.38 per share.
With a new dividend payout of $1.36 to $1.38, Pfizer's 2017 payout ratio would be roughly 52%.
Final Thoughts
Pfizer is a good example of a slow-and-steady dividend stock. It has a long history of steady growth and dividends. The company has been in operation for more than 100 years. Combined with its 3%+ dividend yield, these two qualities earn Pfizer a place on our list of "blue-chip" stocks. You can see the full list of blue-chip stocks here.
The stock can be a valuable addition to a dividend-focused portfolio. Its 3.5% current dividend yield is about to increase, as the company is expected to raise its dividend by the end of December. A 6% to 8% dividend increase seems likely.
Pfizer has a long way to go before it reaches Dividend Aristocrat status. The Aristocrats have raised their dividends for 25+ consecutive years, and are the dividend "cream of the crop". We have developed a list of confirmed buys and sells among the Dividend Aristocrats with our service Undervalued Aristocrats, which provides actionable buy and sell recommendations on some of the most undervalued dividend growth stocks around. Click here to learn more.
Disclosure: I/we have no positions in any stocks mentioned, and no plans to initiate any positions within the next 72 hours.
I wrote this article myself, and it expresses my own opinions. I am not receiving compensation for it (other than from Seeking Alpha). I have no business relationship with any company whose stock is mentioned in this article.
Related Posts: