Just when it looks like nothing can help Sears Holdings (NASDAQ:SHLD), a surprise arrives that has investors buzzing about, picking apart the news, and figuring out if the retail giant can be saved. Such is the case following a press release issued by management on May 9 that it struck a deal with Amazon (NASDAQ:AMZN) to serve as a partner for tires ordered online. It remains to be seen what kind of impact this will ultimately have on the struggling retailer, but it's not inconceivable that, if Sears can hold on for the next few years, it could materially alter the business in a positive way for shareholders.
A big deal and a big reaction
According to the press release issued by Sears, the company is entering into an arrangement with Amazon whereby it will serve as a provider for full-service installation and balancing for tires purchased on the website. Initially, Sears will be offering this at 47 of its Sears Auto Centers throughout Atlanta, Chicago, Dallas, Las Angeles, Miami, New York, San Francisco, and Washington, DC. However, the business expects to rapidly expand the service to all 445 of its Sears Auto Centers.
When customers on Amazon buy any brand of tire, they will be given the opportunity to have it delivered to one of Sears' locations and installed on site. Estimates have not been provided as to how much Sears will charge or what revenue or profit share from Sears Amazon will be entitled to, but one area where this will definitively help Sears is when it comes to the company's own tires, like its DieHard all-season passenger units. For the first time ever, these tires will be made available through Amazon. In response to these developments, shares surged, closing up around 16% for the day.
This isn't the first time Sears has entered into an agreement with Amazon. Last year, the retailer announced plans to couple its quality Kenmore brand appliances with Amazon's Alexa technology. As part of the plan, the retailer began selling Kenmore through Amazon for the first time in its history, giving itself the opportunity to capitalize on one of the few valuable assets the firm has left following a long list of divestitures over the past few years. Unfortunately, investors don't know how well this is working out, but it's hard to imagine a scenario where Sears is worse off than it was beforehand.
A chance at a huge industry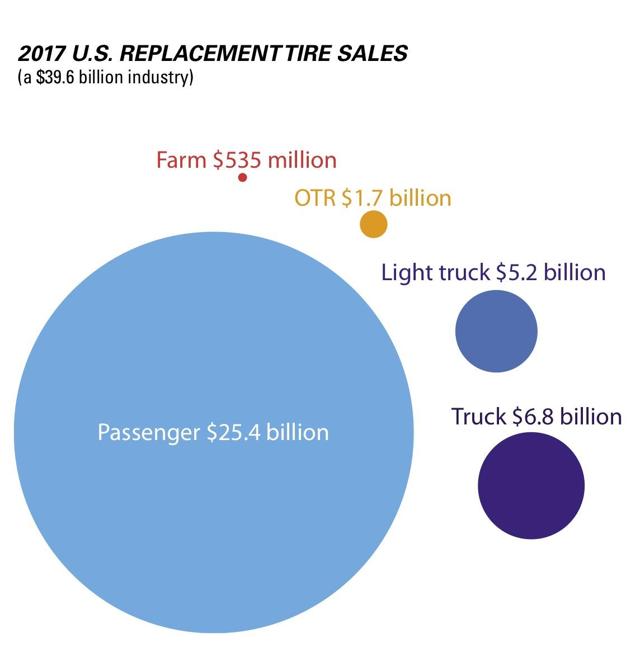 *Taken from Modern Tire Dealer
The tire industry in the US is massive. Total sales in the industry totaled $39.6 billion in 2017 and resulted in the shipment of 258.3 million replacement tires for the year. This excludes 57.8 million new tires classified as OE (original equipment). Of these replacement tires, 208.3 million units, or 80.6%, were passenger tires that generated sales of $25.4 billion. No matter how you stack it, this offers tremendous upside potential for Sears and its shareholders.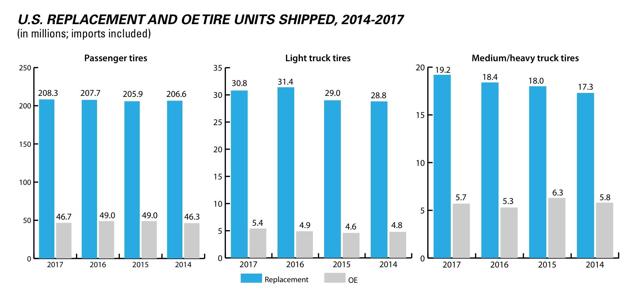 *Taken from Modern Tire Dealer
There's only one problem, though, with this: Sears as it stands today has a great physical presence, but no brand presence in the US tire market. As of today, the retailer operates 445 locations (including its three new DieHard Auto Centers) that it sells tires and provides related services through. This is not too far off from the number of locations Sam's Club, a subsidiary of Walmart (NYSE:WMT), and is closer still to the number of locations Costco (NASDAQ:COST) operates. Even Goodyear Tire & Rubber (NYSE:GT), a focused player on the tire space, only has 600 company-owned locations in the US today.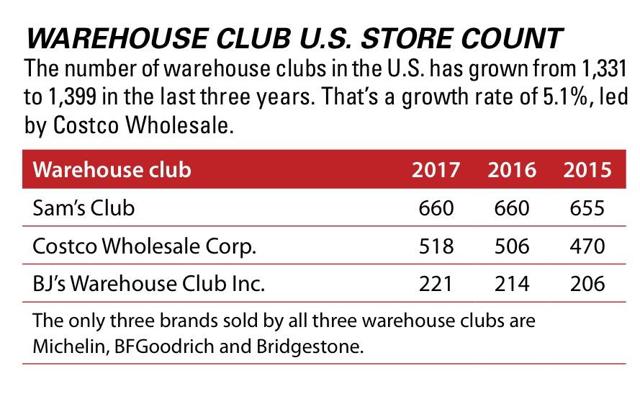 *Taken from Modern Tire Dealer
Despite the large physical presence, Sears' DieHard brand doesn't even place on the top 29 brands in the market today. This can be seen in the image below. Having said that, last year the company released the results of an interesting study. In 2015, purchasers were asked to identify the top tire brands in the US and DieHard, despite not even having tires for sale at that point in time, ranked in the top 5. I take this with a grain of salt since we don't know the testing methods employed by management, but assuming it was done properly, it suggests that the DieHard name could be used to scale up in this space.

*Taken from Modern Tire Dealer
We're at a pivotal moment in this space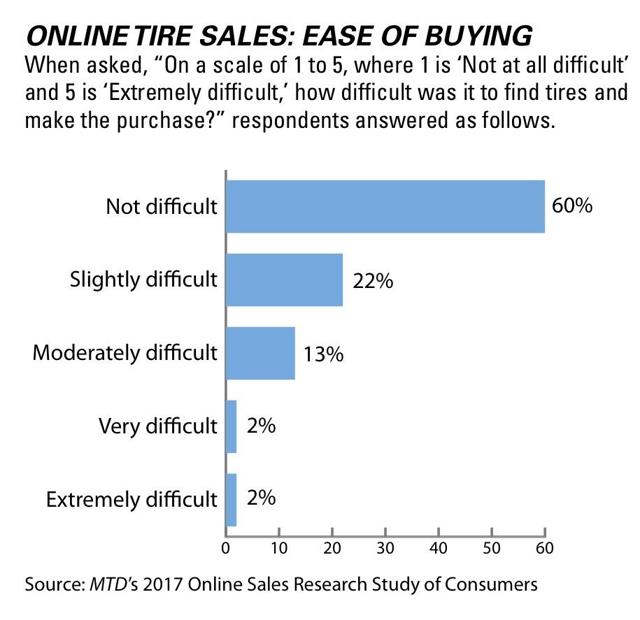 *Taken from Modern Tire Dealer
Although the world is quickly moving toward online sales, the tire industry has sorely lagged. According to Modern Tire Dealer, only 16.7 million, or about 6.5%, of replacement consumer tires were sold in the US in 2017, but this is up from about 6% a year earlier. There are good reasons why this trend is improving. As you can see in the image above, customers representing 82% of online purchases classified ordering tires through the Internet as being either not difficult or only slightly difficult. What's more, 61% of respondents say that the primary reason they chose to purchase tires online was because they are cheaper there than through other alternatives.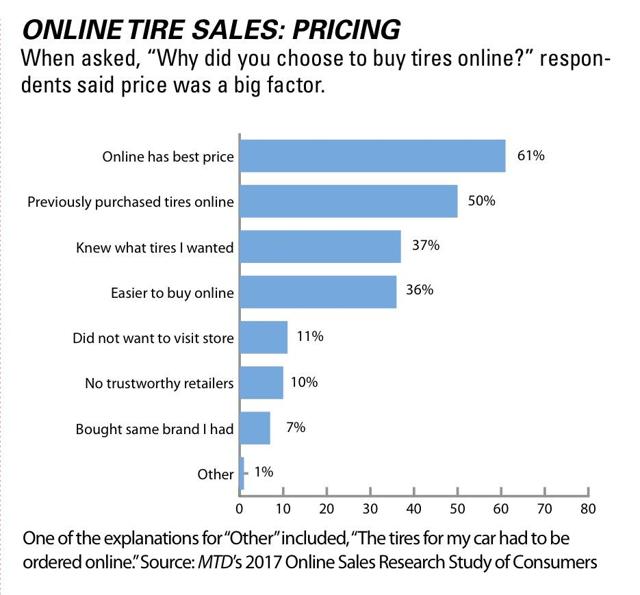 *Taken from Modern Tire Dealer
It gets even better for Sears and Amazon. In the image below, you can see that an impressive 96% of online buyers have said they will buy tires online again in the future, but the even better piece of data is shown in the image below that. A whopping 94.5% of all online buyers purchased the tires from the company that would be serving as the tire installer as well. Given the nature of the relationship between Sears and Amazon, and the fact that Sears may not be optimally located for every customer, I would be shocked if this high a figure holds. But what it suggests is that there's a real opportunity for the retail chain to pick up business as consumers move from retail purchases to online ones.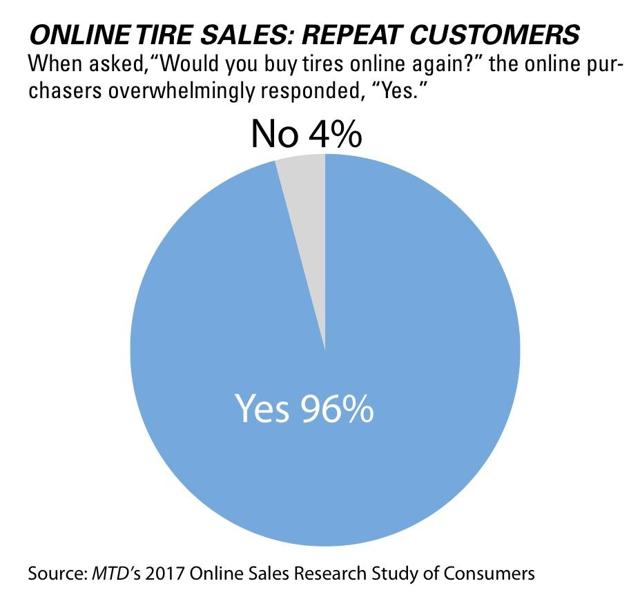 *Taken from Modern Tire Dealer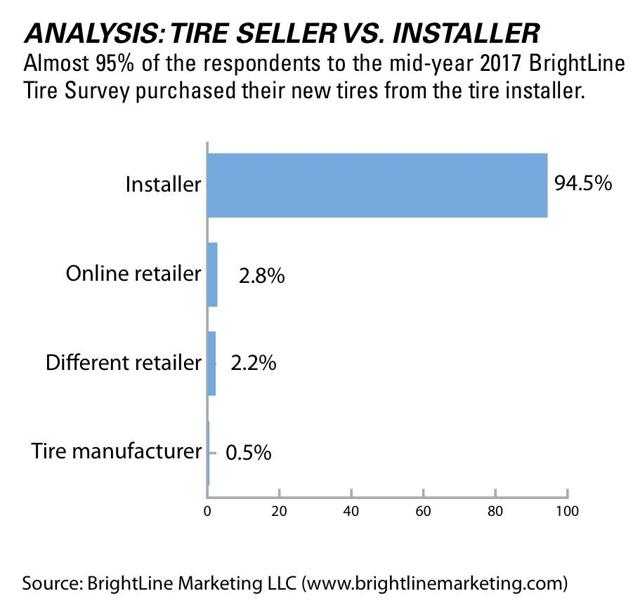 *Taken from Modern Tire Dealer
Outside of merely selling and installing tires, there are other ways that Sears might be able to capitalize on this relationship. In the image below, you can see that 46% of all service-oriented sales from tire dealers come from things that are not classified as tire sales. Toward the top of the list, 93% of all tire dealers offer oil changes, but as the image below that shows, there are a wide range of offerings typical in this space that Sears can capitalize on if it so chooses.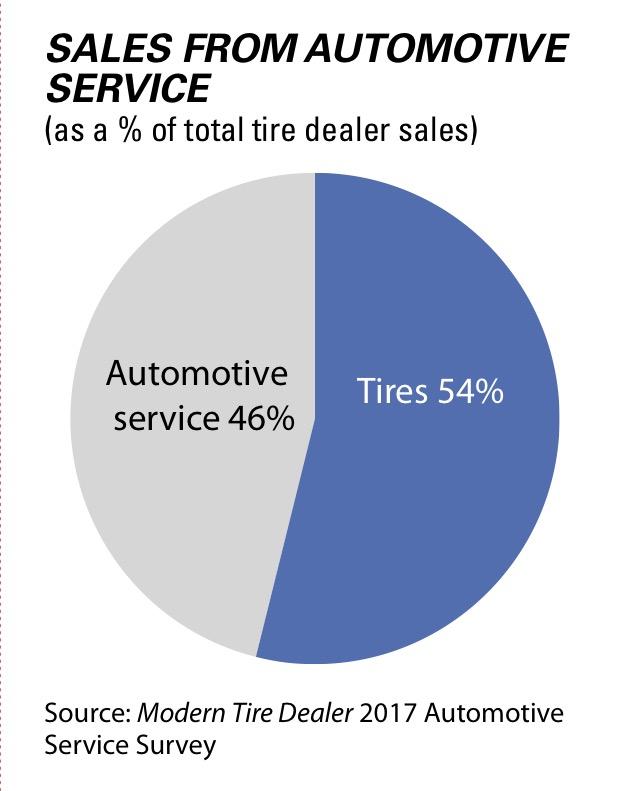 *Taken from Modern Tire Dealer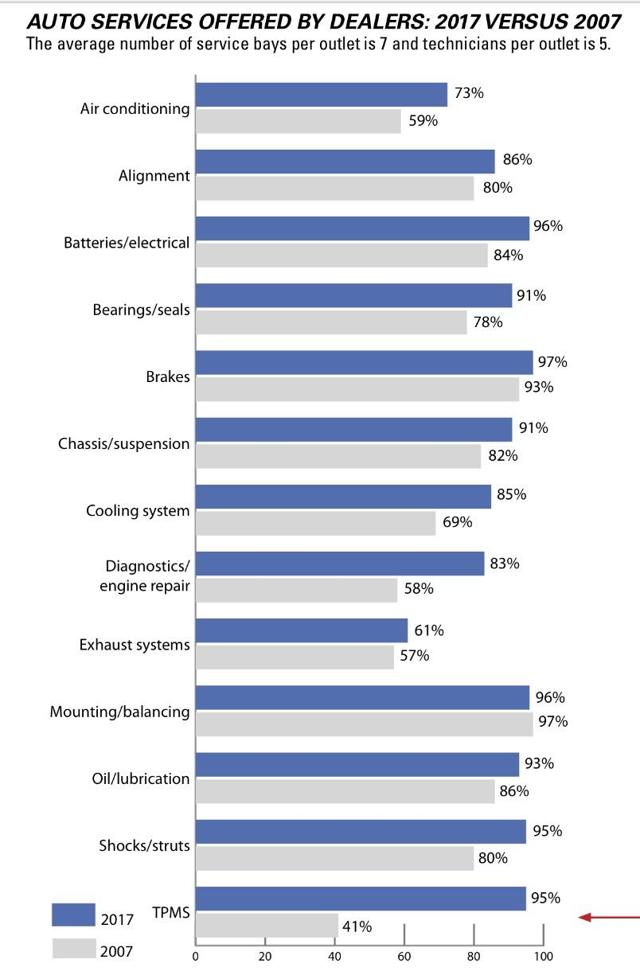 *Taken from Modern Tire Dealer
Takeaway
For much of the past few years, I have been of the opinion that Sears should go bankrupt and that the process could happen soon. I still believe that to be a significant risk for shareholders, but this latest strategy by management is fascinating. Using some of its remaining quality assets, the retail chain might have stumbled into an opportunity with Amazon whereby the firm could snatch up a sizable piece of a large and ever-more-online-friendly industry. Obviously, to make the most of this, the business will need time, capital, and quality management (all factors that have been on an unstoppable decline for several years now), but it's not inconceivable that through the appropriate transactions management might be able to build up this business and actually create significant value for shareholders. This doesn't change the fact that the business is remarkably risky at this time, but it does give an interesting opportunity for the firm to reinvent itself and reward shareholders for years to come. For Amazon, the value opportunity is attractive as well, and could serve the internet giant and its shareholders as the business looks to capitalize on growing online sales across the board.
Disclosure: I/we have no positions in any stocks mentioned, and no plans to initiate any positions within the next 72 hours.
I wrote this article myself, and it expresses my own opinions. I am not receiving compensation for it (other than from Seeking Alpha). I have no business relationship with any company whose stock is mentioned in this article.